About Me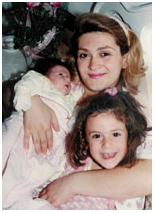 I was born in Samsun which is the prettiest city of Black Sea Coast. I finished the prımary school in İstanbul. I graduated from Şişli Evening Commercial High school. I attended Basil Patersons' College in 1978, in Edinburgh which is the capıtol of Scotland. I got the First Certificate of Cambridge University, there. I educated for five years in Turkish Classical Music Consevatory. I sing jazz songs. I have been studying jazz in studio CAN,in Istanbul.I am in love with jazz music. I prefer to sing soul- jazz, smooth jazz, Latin jazz,standards and sometimes blues songs. I give my special interpretation to the songs.I sometimes lose my self in blue notes. I play piano, make tapestry work , in my spare times. And I work for some Charity Associations. I read tests for the blind students who study for the Unıversıty exams, at Türkan Sabancı High school.
I have two daughters. I am their life-coach besides being their mother. I like to spend time with my parents.
My dear dog Brother and my sweet cat Michael are my best friends. I get the most valuable life power first, from my daughters then from the unbelievable nature. And finally I thank God for each second and the beautiful life which has been given to me.
Ferah Kural
1961 yılında Karadeniz'in en şirin kenti olan Samsun'da dünyaya geldim. İlkokulu İstanbul'da bitirdim. Şişli Akşam Ticaret Lisesini ikincilikle bitirdim. İskoçya'nın başkenti Edinburgh'da Basıl Patersons' College'de 1 yıl dil eğitimi aldım. The First Certificate of Cambridge University diplomasını almaya hak kazandım. İstanbul Belediye Konservatuarında beş yıl Türk Sanat Musikisi eğitimi aldım. Caz müzigi parçaları okuyorum.Calışmalarımı İstanbul'da Studyo CAN'da sürdürüyorum. Caz müziğine hayranım. Soul-caz, smooth-caz, Latin-caz, caz standards ve bazen de blues tarzı parçalar okumayı tercih ediyorum. Parçaları bana ait özel yorumla seslendiriyorum. Bazen, Mavi notaların içinde kayboluyorum. Kendime ait özel zamanlarda piyano çalarım, goblen işlerim.
Boş zamanlarımda yardım kuruluşları için çalışmalar yaparım. Türkan Sabancı Lisesi görme özürlü üniversite adayları için test okuyorum. Iki kızım var. Onların hem anneleriyim, hem hayat koçları. Annem ve babamla zaman geçirmekten, onlarla ilgilenmekten mutluluk duyarım.
Sevgili köpeğim Brother ve tatlı kedim Michael benim en iyi arkadaşlarım. Kızlarımdan sonra en büyük enerji kaynağım doğa diyebilirim. Ve Tanrı'ya her saniye ve bana sunduğu tüm güzellikler için sonsuz teşekkürler ederim.
Ferah Kural